Tidal Yachting was established with yacht crew in mind. We learnt first hand what it's like to be given the wrong information and to waste time and money on qualifications we didn't need. We get hundreds of emails asking for help and this is the reason we offer our crew consultation service. Due to the time involved in this service, consultation does carry a monetary investment'.
CREW CONSULTATION
You have decided you would love to work on a Super Yacht however you are not sure how to go about it. Finding the information can be daunting and obtaining the qualifications you may think you  need can be expensive. Your life experience and your previous experience may be enough to give you the leg up to successfully jump onboard. Sometimes all you need is just the basic qualifications, and you are on your way to new horizons!
Consultation & Career Mapping
Our crew consultations are designed especially with green crew (newcomers) to the industry, in mind and provide a platform to ask the questions, and be given the information that can sometimes be difficult to find. Our coaches are able to offer guidance and take the guess work out of entering the industry.
Tidal Yachting takes consultation a further step forward and offers career mapping; a framework to assist you achieving your career goals in a direct and cost-effective way. If you have any questions, please send us an email at admin@tidalyachting.com
To book your consultation with one of our crew coaches, click on the following link and complete the pre-consultation questionnaire. Please complete the form at least 48 hours prior to your appointment. This will ensure we have time to review and tailor your one hour appointment to best fit your needs. We will then contact you to arrange a time to chat in person or via zoom call. Where you are located is no barrier and our time is flexible….it's that simple.
'For further information on the cost please contact us at admin@tidalyachting.com
Please follow us on Facebook and Instagram as we aim to provide helpful information, news and job opportunities to our wider Tidal Team!
If you already have your STCW and ENG1 or maritime medical please register with us. We are only able to put registered crew forward for job opportunities so head on over and upload your CV and qualifications.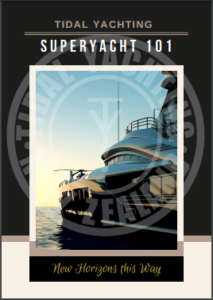 Click here to view our SUPERYACHT 101 guide.